What is the difference between UK vape liquid and juice from the USA?
Is there a difference between UK e-liquid and vape juice from the United States? The answer is a considerable amount and it all comes down to the divergence in approaches the two countries have adopted in relation to tobacco harm reduction. The UK Government has been largely supportive of electronic cigarettes whereas America took a hands-off then a prohibitive line.
Nicotine Strengths
Nicotine strength is the first area we diverge. The USA still doesn't have an official limit and a popular pod system supplies strengths up to 59 mg/ml. UK vape liquid is restricted to a maximum concentration of 20 mg/ml
E-Liquid Flavours
Online forums and groups on social media platforms have often discussed this subject. Some vapers swear they can taste a difference and guess at reasons why, often pointing to the use or not of artificial flavours.
The reality probably is that American budget and premium vape liquid tends to use more sweetening agent. Also, they don't have regulations in place to prevent the use of flavourings containing a chemical compound called Diacetyl. This is used in some of their e-liquids and our food products to create a buttery texture – useful in custard and pastry flavours. Diacetyl is banned from use in UK vape liquids.
E-Liquid Costs
The cost of American juice in the UK is far greater than UK E Liquid. The price on the shelf needs to factor in the price of shipping across the Atlantic and importation tax which increases the sale price – and then VAT is added on top of that.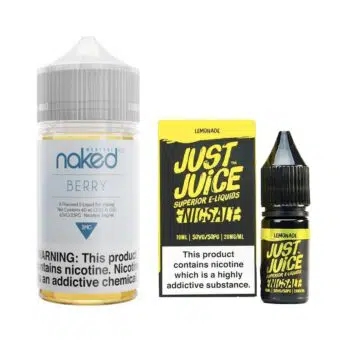 E-Liquid Bottle Sizes
American vapers are allowed to buy e-liquid in any size bottle. UK vape shops however are only allowed to supply nicotine containing e-juice in 10ml bottles, not only does this increase the cost for consumers but it also has a huge impact on the environmental issues such as recycling which UK and EU governments tend to brush under the carpet.
Vaping Laws
The USA has seen no new e-liquid brought to the marketplace for a few years as they introduced an application process that is still to grant approvals. In fact, just last week, four and a half million applications were turned down by the Food and Drugs Administration.
This has happened at the same time as the USA banned all flavours other than tobacco and menthol from vape pods. There are currently no restrictions on the types of flavours in the UK.