Bar Salt E-Liquids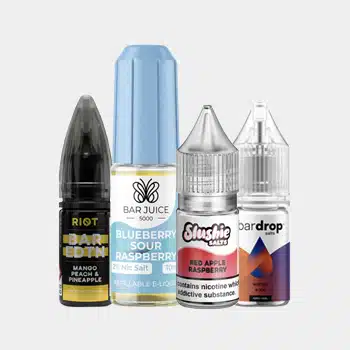 Bar Salt E-Liquid is an alternative to traditional nic salts. While popular among many they aren't for everyone, they are a lot sweeter and have more flavour replicating the experience of a disposable vape like the Elf Bar 600.
E-Liquids UK stocks the best range of Bar Salts from brands like Bar Juice 5000, ElfLiq, Riot Squad & Bar Drop.
All our Bar Salts are priced at £3.99 each but are available to mix and match in our multi-buy 10 for £30!
---

---
What are Bar Salts?
Bar Salts is an umbrella term for E-Liquids that are currently being released by brands that mimic the popular flavours of disposable vapes.
Why are Bar Salts so Popular?
Bar Salts are a spin-off from disposables, which took the vape industry by storm. Bar Salts are nicotine salts which contain a higher concentration of flavouring so offer a more enjoyable experience than regular nic salts.
How do I use Bar Salts
Bar Salts can be used in any MTL (Mouth to Lung) or Pod Kit as long as it is compatible with 50/50 VG/PG or High PG E-Liquids.