Pod Salt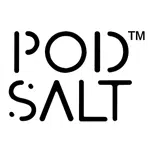 Pod Salt is nicotine salt manufactured by My Vapory in the UK. Pod Salt is made up of 3 ranges which include Pod Salt Nexus & Pod Salt Fusions. A mixture of different flavours is available with everything from Fruits, Mints to Tobacco flavours, Pod Salt is created using only premium Nicotine Salt which is found naturally in tobacco plant leaves, this allows them to produce a perfectly smooth vaping experience with minimal throat irritation.
There are so many great flavours in the Pod Salt family including especially in their fusions range which collaborates with big brands such as Doozy's Pink Haze, Marina Vape's Marshmallow Man 3 & Strawberry Kiwi Ice from Pacha Mama.
Please be sure to browse our range of Pod Salt flavours online today to find the best nic salt E-liquid to discover more about what we have to offer. We have a wide range of E liquids and nicotine salt Eliquids to choose from, so regardless of you're needs you're sure to find exactly what you're looking for with us.
---

---
Why Should I Vape Pod Salt?
Pod Salt has developed an advanced Nicotine Salt formula is designed to provide an exceptionally smooth vaping experience at high nicotine strengths. Naturally found in tobacco leaves, salicylate lowers the pH of nicotine, reducing irritation on the throat and providing enhanced nicotine delivery. Their salt e-liquid formula is engineered for low vapour production, bringing an element of stealth and discretion to your vaping.
Reasons to Choose Us for Pod Salts
There are many reasons why we believe that you should choose us when shopping for Pod Salt online. From the intense flavours to our free UK delivery, we're more than confident in saying that we can help.
Some of the main reasons why we believe that you should choose us when shopping for Pod Salt are:
We stock a range of E liquids, nic salt, vaping kits and accessories
We offer free UK delivery on orders over £30
We sell our nic salts online and from our vape shop
We have a variety of refreshing flavours to choose from
We're highly affordable - Order online today!
The above points are just a few of the main reasons why we believe that you should choose us when shopping for Pod Salt online.
Order Pod Salt Online For FREE UK Delivery
Shop online for Pod Salt with us today and get free UK delivery on all orders over £40. We even have free next-day delivery on all orders over £30. If you would like more information regarding our same-day dispatch or our free delivery on orders over £40, please be sure to get in touch with us.
Age Restriction
We only sell our nic salts and vaping products to customers who are 18+. If you wish to order from us, you may need to verify your age prior to purchasing. We will need your full name and address to confirm that you are on the electoral roll, or you can supply your driving licence or full passport number for us to validate.
Should you require further assistance when placing your order or for help verifying your account, let our team at E-Liquids UK take care of everything and give us a call today.
Contact E-Liquids UK for Pod Salt
For all your needs regarding Pod Salts, please waste no time and be sure to shop online with E-Liquids UK. We stock a wide range of traditional E liquids, nic salt E liquids, and vaping kits, so no matter your needs you can always count on us. Our range of E liquids flavours cover anything from fresh mint to acai berry, sweet vanilla crème to citrus fruits, so regardless of the flavour you're in search of, we're confident in saying that have you covered.
Please be sure to browse our range today to see more on the Pod Salts we have to offer. For more information about us or any of our nic salt E liquids, be sure to give our team a call today.