50/50 Vape Liquids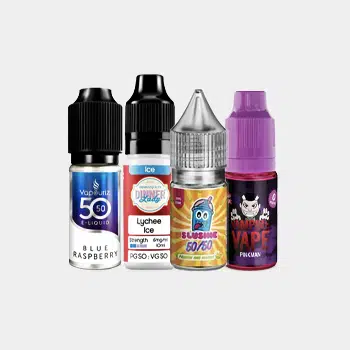 50/50 Eliquids are designed to work in smaller less powerful vape kits. They are mixed to a 50% VG (vegetable glycerin) 50% PG (propylene glycol) blend making them a lot thinner than High VG e-liquids. Being thinner 50/50 E-Liquids don't require as much power to vaporize and therefore produce less vapour making them discrete. 50/50 e-liquids usually come in 10ml bottles and contain much higher nicotine strengths such as 12mg or 18mg.
We stock hundreds of 50/50 e-liquids with flavour profiles ranging from menthol tobacco all the way to sweet desserts and tropical fruits. Prices range from £2.99 all the way up to £5.99 for premium imported brands.
---

---
E-Liquids UK Offers the Best Selling 50/50 Vape Liquid
We can offer you the highest quality 50/50 vape liquids from reputable brands which have been tested and are fully TPD compliant, this gives you peace of mind knowing you are making a healthier choice by switching to vaping.
What are 50/50 Eliquids?
50/50 eLiquids are similar to normal vape liquid the difference being 2 of the core ingredients Propylene Glycol (PG) and Vegetable Glycerin (VG) are mixed at equal rations making the liquid thinner and easier to vaporise in lower power vape starter kits.
What is the highest strength 50/50 Eliquid?
Due to TPD laws the highest nicotine level a 10ml bottle can contain is 20ml. Traditional 50/50 liquids using freebase nicotine range from 3mg to 18mg. However nicotine salts are also blended to 50/50 and utilise the maximum 20mg strength.
Which 50/50 Eliquid Brand Should I Choose?
Choosing the right 50/50 liquid for your first vape kit is a daunting task but rest assured thate all the vape liquids we sell are of the highest quality and have passed all the nesicary tests and compliancy. You just need to find a flavour profile that you like the sound of and think you would enjoy vaping.