An update on vape legislation around the world in preparation for summer holiday travel.
Where can I Vape on Holiday this Summer?
The United Kingdom leads the world in its approach to tobacco harm reduction and the use of electronic cigarettes. With the summer holiday season rapidly approaching, we are updating the situation regarding the legality of vaping in various countries where the situation is known.
Laws regarding the use of e-cigarettes are in a constant state of flux around the world. Some nations are moving to implement tighter controls, others are accepting the benefits that vapes have over tobacco products. Change can happen swiftly.
Vaping is currently legal across the entire European Union member states and the United Kingdom. While vape shops exist, some countries have banned or are moving to ban the sale of e-liquid with any flavour other than tobacco. If your visit is outside the United Kingdom you would be best advised to take a supply of your favourite UK E-Liquid.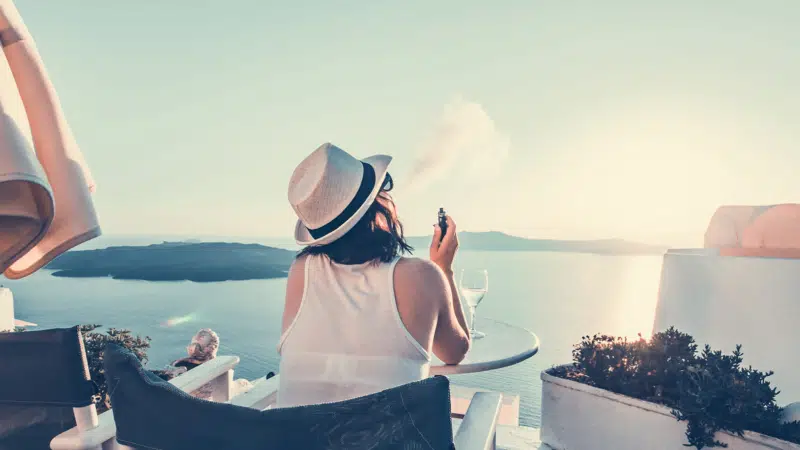 Legislation can change quickly, so it is best to check for any advice from the UK Government before you travel. The site works very well when there is a strong risk of you being fined, arrested, and/or put into prison.
A recent example was travellers arriving in Thailand having their vape equipment confiscated the Arrivals customs check, and the Consulate having to help vapers get released following arrests.
Finally, in addition to the vaping devices and vape juices that you plan on taking, it might be worth packing some traditional nicotine replacement products just in case. Firstly, a patch, gum or spray might be useful to alleviate nicotine cravings at the airport or attempting to vape during the flight.
Secondly, if your equipment breaks, your e-liquid spills, or another issue arises, you will have something there as a backup plan.
Countries where vaping is legal but access to vaping equipment or e-liquid might be limited so it is best to take sufficient quantities to last for your visit:
Antigua and Barbuda
Argentina
Belgium
Bhutan
Brazil
Brunei
Chile
China – Is increasingly becoming more anti-electronic cigarettes.
Colombia
Denmark
Egypt
Ethiopia
France
The Gambia
Germany
Hong Kong – Is increasingly becoming more anti-electronic cigarettes.
India – Some states still have vape shops, others have banned all sales and importation.
Iran
Italy
Jamaica
Japan – Vape shops exist but the country is geared towards heat-not-burn products.
Kuwait
Laos
Lebanon
Macau
Malaysia
Mauritius
Mexico – But there are moves to completely ban vaping and the sale of vape products.
Nepal
Netherlands
Norway
Oman
Panama
Poland
The Philippines – Is on the verge of opening up the e-cig market completely.
Seychelles
Spain
Sri Lanka
Suriname
Sweden
Turkey
Turkmenistan
Uganda
United States of America – But severe fines exist for vaping in prohibited areas.
Uruguay
Venezuela
West Timor
What are problematic nations for vaping?
Australia – As a resident, the importation, carrying and use of nicotine-containing e-liquids carries a severe fine unless you are in possession of a doctor's prescription. It is unknown if this also applies to tourists and business travellers
Here is a list of countries where vaping is completely banned.
Bangladesh
Cambodia
East Timor
Myanmar
Nicaragua
North Korea
Qatar
Singapore
Syria
Thailand
Vatican City