"Anecdotal reports from teachers suggest that underage vaping is becoming increasingly common," reports the Times Educational Supplement, a newspaper for educators. Research from Action on Smoking and Health suggests it isn't a widespread issue, and researchers at University College London believe those who do vape aren't at risk of smoking later in life.
What did the Times Educational Supplement say?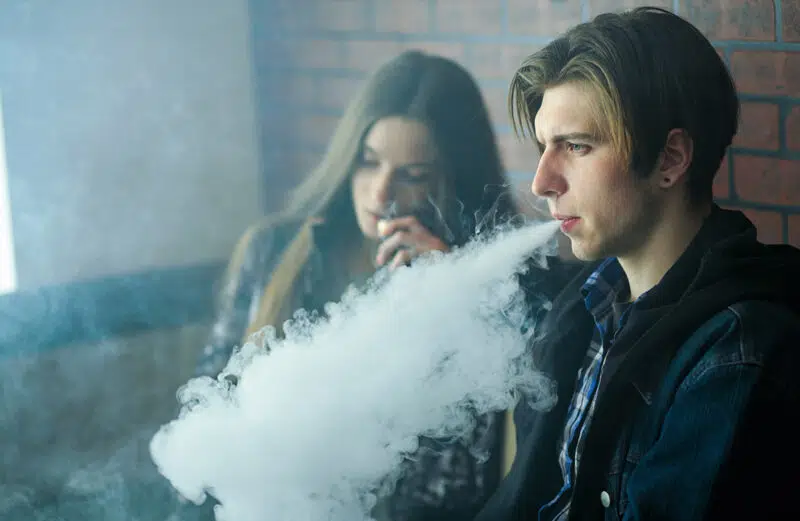 The newspaper quotes "Sarah", an anonymous English teacher working in a "secondary school in the North of England". She allegedly says that vaping is a "massive" problem at her school with children in Years 8, 9, 10 and 11. She says: "We suspect that it's going on at every break time, every lunchtime, in every toilet."
"Socially, there has been a shift, where smoking is perceived as a dirty habit and vaping is seen as a desirable alternative. It's all over social media, particularly TikTok. Influencers will be vaping in a TikTok video like they're just having a drink. Kids are just really exposed to it. They see the people they aspire to be like doing it so they start vaping, too."
Does the article provide other evidence of this being a problem?
Yes, but not from the United Kingdom.
It says her anecdote is supported by findings from a study conducted by researchers at the University of Queensland in Australia. The problem with this is that studies conducted in Australia and the United States tend to produce very negative results compared to the independent work conducted at British universities.
Does the Times Educational Supplement article display any other bias?
Yes. It says that vapes are "marketed to appeal to children" by using "bright colours and appealing flavours". It's possible the author has never seen Mexican products for sale in supermarkets.
It also quotes a World Health Organisation report saying that "vaping is harmful" and that e-cigarettes could act as a "gateway to conventional cigarettes". This report has been strongly criticised by tobacco harm reduction experts, vaping advocates, and some UK politicians.
Are Vapes purposely marketed to children?
No.
As an article in the New Scientist explains: "Research suggests that many adults are also keen on sweet-flavoured vapes, including fruit, sweets and desserts, and it can be part of the appeal of switching from smoking to vaping."
What is the study from University College London about?
The work was published in the Addiction journal and looked at whether children who vape progress to smoking (the gateway referred to above).
The authors concluded: "Changes in prevalence of e-cigarette use among 16–24-year-olds in England does not appear to be associated with increases in the uptake of smoking in this age group."
So, is there a "massive" vaping issue taking place in UK schools?
No.
All the evidence points to vaping displacing smoking, something that schoolchildren used to do at the bottom of playing fields. Staff had little idea of the numbers involved and are now seeing children using toilets to vape instead – and think this is a new problem.
Action on Smoking and Health's Deborah Arnott says the "hysteria" about teen e-cig use and the notion there is an "epidemic" simply isn't true. "We don't see that evidence so much in the UK," she said recently.
Arnott added: "It is important that teachers make clear to children that by far the greatest risk to their health is from smoking. Two-thirds of those trying just one cigarette go on to become daily smokers and half of the long-term smokers die prematurely after having suffered years of serious disease and disability caused by smoking."
E-Liquids UK is an industry-leading online vape shop and we know vaping is a smoking cessation tool that shouldn't get smeared half as much as it does by the media. We don't agree with anyone under the age of 18 buying vapes and we operate a strict age verification policy which ensures nobody underage is purchasing vape kits from us.