Australian Nicotine Ban
We love our Australian customers, so the fact that we will no longer be able to serve you the same way have done for the past 6 years deeply saddens us. While we can no longer serve you nicotine-containing e-liquids, the new laws don't prevent us from selling you short fill e-liquids with 0% nicotine and separate nicotine shots. We just cannot sell you premixed nicotine products or disposable vape pens.
Australia's Department of Health doesn't believe that Vaping is an effective tool for quitting smoking.
"Currently, there is insufficient evidence to promote the use of e-cigarettes for smoking cessation. If you need additional support to quit, the most successful approach is behavioural support combined with medicines (such as TGA-approved nicotine patches, gums and lozenges) and follow-up. E-cigarettes containing nicotine are not first-line treatments for smoking cessation."
"If you have tried to quit smoking using TGA approved medicines and been unsuccessful, speak to your doctor about whether or not e-cigarettes containing nicotine are a suitable option. In Australia, you must have a prescription to obtain e‑cigarettes that contain nicotine."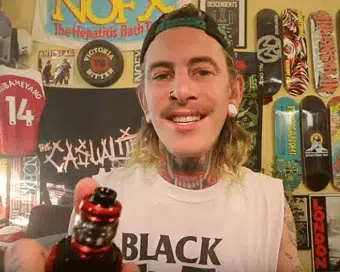 The above quote is humourous as there is overwhelming evidence that e-cigs can be used effectively as a smoking cessation tool. PHE (Public Health England) is one of the most respected and recognised health organisations in the world and state the following "Vaping is 95% safer than smoking"
It seems that the Australian Government are pushing their citizens towards big tobacco and pharma products, such as nicotine gum and patches. While these methods may have worked in the past, they are now an incredibly outdated means to help combat nicotine addiction and are often a slower process in cutting out tobacco products.
When does the law around vaping and nicotine change in Australia?
From 1st October 2021, Australians and residents of Australia will need a prescription to legally access nicotine-containing e‑cigarette products for any purpose. This includes importing these products from overseas.
More information around this legislation can be found over on the health.gov.au website along with further updates.
Can I still order E-Liquid to Australia?
Good question, currently the answer is yes. We are seeing a huge influx of orders to Australia where customers are investing in their future by stocking up for many months ahead. Time is running out, but we are able to offer fast shipping service to Australia via Royal Mail and DHL Express. These usually arrive within 4-5 working days providing there are no volume delays with customs clearance.