One Hit Wonder
One Hit Wonder (OHW) are a USA based e-liquid manufacturer from Los Angeles, California. These were once one of the most hyped liquids on social media and admittedly I jumped on the hype train before falling off as the TPD kicked in here in the UK. Originally OHW liquids were available in massive 180ml bottles priced anywhere from £45 to £50, not a bad price per ml admittedly. It took me a while to try one of their liquids mainly due to the price and not wanting to pump close to £50 on something I would potentially hate. It's a big risk, thankfully I chose for my first one Muffin Man which went down a treat and I then worked my way through the rest of the lines. Stopping just before the release of Magic Man. Thankfully now for those of you reading OHW have found their way back onto the shelves again in short fill 50ml bottle form. Much more affordable and less of a risk at a price of £15.99. Today I am going to be taking a look at the new short fill range and letting you know my thoughts on these. All of the OHW range are mixed to a ratio of 80VG. All of the short fill OHW bottles are specially formulated to allow for nic shots meaning the flavours have been boosted.
Originally named Milkman this has been renamed to The Man. This was the first I tried from the new short fills and a long time since having the original. The scent from the bottle is mainly strawberry. The liquid is actually a strawberry and cream flavour. So let's see what we get from this. The inhale is a strong, ripe strawberry flavour. Very sweet and very moreish. The exhale commences with a nice dollop of cream coupled with the sweet tones of sweet strawberries. The cream comes in and out of the exhale. The exhale is not as full flavoured as the inhale with the creams taking over the more you exhale. Overall it's a very nice juice and almost on par with the original after a good steep. The beauty with these is that the long steeps are over and the flavours are pretty much good to go.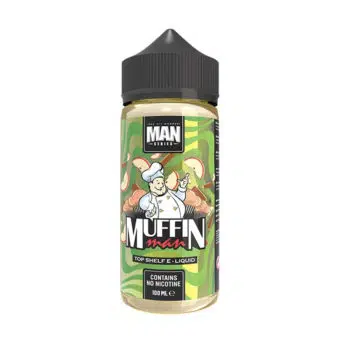 Next up I am revisiting the very first liquid I ever tried from OHW. The original I had a strange relationship with. I blitzed through 180ml in about 3 weeks and then really struggled with the next bottle. Since that second bottle, I did not really go back to it. This time around I was expecting that same taste as the first time around. The scent is predominantly apple and cinnamon. That is exactly what you get on the inhale. A full-flavoured apple with a hint of cinnamon. Not too much cinnamon so as to spoil it, and the apple is very sweet. The exhale is more of the apple but accompanied by a subtle cake type flavour ending with apples and a touch of cinnamon. It did not wow me at first but after a couple of tank fulls, I was back into this juice fully.
The name on this one is a little misleading these days. The original story to this one is that it came out in a 100ml limited edition bottle hence being a mini version of muffin man replacing the apple for strawberry. Unfortunately, the retail price on the limited edition version was pretty high I think in the region of £35. I didn't bother! Fast forward to August 2017 at the London vape show I came across this on tester had a blast and loved it only to find out it was sold out. But now the short fills have finally come into stock over here I grabbed a bottle a few weeks back for my own enjoyment. The scent is strawberry and strangely cinnamon. I say strangely because it's not a combination I could ever imagine working. But it does, and very well! The inhale starts off with the cake/muffin flavour that's rather quickly followed by the strawberry. Flipping around for the exhale, strawberry turning to muffin, mixing it up with cinnamon and then a mouthful of it all. It's a beautiful juice, mixed feedback from others that tried it, but I love this!
Another that I never originally tried, it never appealed to me. Yoghurt type flavours really aren't my thing. The smell from the bottle is rather odd and to be honest I could not distinguish any particular flavour. The inhale starts off as a yoghurt flavour with a small amount of blueberry towards the end of the inhale. The exhale of the blueberry comes through slightly stronger a mixture of cereal flavours and more of the yoghurt comes through. Unfortunately, this is not a flavour for me though I do know people that really enjoy it. For me, the yoghurt is too sour and the blueberry just doesn't quite come through as well as it does in some other flavours.
My man was one I was originally excited to try and when I did I really enjoyed it. The smell from the bottle is a mixture of chocolate and strawberry. The inhale starts of as strawberry with some vanilla notes coming in and finishing with chocolate underneath. The exhale starts off with the chocolate coming out a little stronger. It's not the best chocolate taste but it does work well in this liquid. Underneath the chocolate, waves of strawberry and vanilla come and go but cumulate in a pleasing creamy finish. This is a Neapolitan ice cream flavour and only gets better the longer it is left steeping. The last 20ml from the bottle seems to be the best point for this one. So maybe a week steep after adding your nic shot would bring out the best in this one.
It was at the announcement of this flavour that I fell off the hype train. Tied in around the time of the TPD hitting the UK Magic Man almost went off on a different tangent with this flavour. Up until this point all of their flavours had been dessert type flavours and here we have a fruity flavour. I was not a fan of fruit flavours at this point in time and in particular, the watermelon I read about made me steer clear. However a friend had a bottle of this and I gave it a whirl, better than wasting £50 on a bottle myself! it wasn't bad, hence adding it to my basket for this review. Smell for me is watermelon, perhaps I can smell it more because it's a flavour I do not like. There's a citrus note in the scent too, maybe an orange. The inhale is a massive leap in terms of flavour from OHW it's like they rewrote their rulebook on flavour as it's much more fuller in flavour than ever before. You get a pleasant mixture of fruits, yes watermelon but also oranges, some sort of berries and I think notes of lime. It is a mixup of a lot of fruity flavours and I am not the greatest at always being able to pull out fruits in these types of flavours, but I can tell you it's nice. The exhale follows suit but here you also get that nice gummy bear type of candy flavour creeping out. While its not going to be a regular purchase its one that I would buy from time to time for something a little different.
Another fruit one from OHW, it's nice to see two of the most popular flavour profiles catered for in this line. Desserts and fruits still attract many vapers. Island Man gives its flavour away as being a tropical fruit type of juice. The smell from the bottle is mostly pineapple which I kind of expected. The inhale is pineapple and its lovely! mix this at the end with some citrus notes that settle under the pineapple but add a tang to your taste buds, first impressions are really good. The exhale changes drastically into a watermelon and mango mix up. The watermelon is not as overbearing as it could have been, for me that's perfect. With the mango, it's almost hiding notes of kiwi and I think cherry. You almost get a tease of these flavours. Turning the wattage up a little gets these flavours out a little more. Overall it's a pleasant vape, refreshing and probably a perfect summer vape. This is the latest flavour from OHW and the last to review. Hopefully, One Hit Wonder has more tricks up its sleeves.