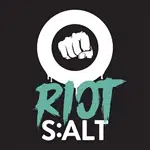 Riot Squad Salts are Hybrid nic salts that consist of 50% salt nicotine and 50% freebase Nicotine. This unusual blend results in a quicker nicotine hit but still gives a subtle throat hit which most vapers enjoy. There are now 28 flavours in the Riot Squad Salt range thanks to the addition of their PUNX series and their latest Purple Burst flavour. Riot Salts are priced at just £3.99 a bottle or take advantage of our 10 bottle bundle deal for just £29.99!
If you haven't already then you should definitely try Riot Squad High VG flavours in 50ml 0mg short fill bottles.
---
Banana, Raspberry, and Dragon fruit

---
We offer the best price for Riot Salts
We have partnered with Riot Squad to offer some of the best price nicotine salts in the UK. We stock all 34 Riot Squad Salt flavours in all three strengths 5mg, 10mg & 20mg and always have fresh stock arriving each week.
Why should you vape Riot Salts over other nic salts
Riot Squad Salts are manufactured using their Hybrid Nicotine technology which is a mixture of pure nicotine salt with traditional freebase nicotine to offer the fast delivery for your cravings but still keep a throat hit that many ex-smokers enjoy. This is why you should be vaping Riot Salts daily.