It's true CBD products are an amazing addition to your lifestyle and overall well-being.
With so many options on the market, it can be overwhelming to know what to buy and where you should start.
Here at E Liquids UK, we've put together this handy guide of our CBD selection to simplify everything and help you find something that works for you and your personal needs, happy shopping!
What are the different types of CBD?
Whole Plant CBD:
Whole plant products, utilise the entire spectrum of hemp compounds, making them rich in over 40 different cannabinoids, as well as essential terpenes, flavonoids, waxes and oils. Because of this they also may contain THC.
Full Spectrum CBD:
Like whole-plant, full-spectrum products contain the full range of cannabinoids, terpenes and flavonoids, but without the waxes, oils and additional fibrous substances. Likewise, they can also contain THC.
Broad Spectrum CBD:
Products that are broad-spectrum retain the additional cannabinoids, terpenes and flavonoids in full-spectrum, whilst removing THC, making it the safest choice for CBD users. We recognise the value of the hemp plant's equilibrium and your safety, which is why all of our CBD oils are broad spectrum.
CBD Isolate:
A CBD isolate, as the name suggests, is 99.9% pure CBD. During the extraction process, everything else in the plant matter is removed, including additional cannabinoids, terpenes, waxes and oils. This works best in CBD topicals, where the CBD is supported by other organic oils.
---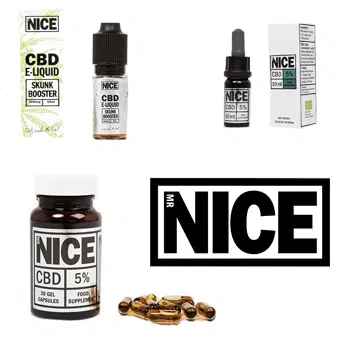 Mr NICE is a cannabis lifestyle brand inspired by the true story of the infamous Howard Marks. They're elevating the modern cannabis experience so that every day can be a NICE day!
Skunk Booster 1000mg
Add to any e-liquid and vape for the benefits of CBD with the taste of your favourite juice!
Organic CBG Oil 500mg
Full Spectrum hemp seed oil has a high ratio of cannabigerol and other naturally occurring compounds (CBD, CBN, CBV). Place 4 drops under the tongue daily to feel the benefits.
---
Fresh Bombs have been specialising in CBD infused spa treatments since 2016. Taking inspiration from aromatherapy using all-natural ingredients and blends of essential oils, their products relax the mind and body, whilst suitable for sensitive skin.
Soak yourself in 35mg of CBD isolate, along with the delightfully sweet aroma of fresh bamboo, coconut & ylang-ylang. Boosts romance & aids sleep.
Uplifting Bomb
Start your day out right, with an energising 100mg or 200mg CBD isolate bath bomb. Soak your senses awake with the scent of zesty lemon and avocado.
Yograss Bomb
Reduce stress and soak your worries away with 35mg of CBD isolate. Soothe with the scent of lemongrass and kiwi, while coconut oil, Hawaiian black salt and essential oil neroli do the rest.
---
The UK's number 1 CBD brand is focused on you leading your best life. Whether you exercise regularly, are focused on going green, or just want to lead a balanced lifestyle, that's the Vitality CBD state of mind.
Oral Spray 300-2400mg
With an amazing array of both strengths and flavours, this spray is not only versatile to your needs but includes Broad Spectrum CBD meaning it's packed with additional hemp compounds. Spray under the tongue and feel the benefits instantly!
Isolate E-Liquid125mg
Blended to a 50% VG 50% PG ratio for MTL kits, add this CBD to your vape tank for a no-fuss fix.
Muscle Balm 300mg
Created to ease muscle ache, tension and pain. Rub into the area required until absorbed. This product is made of organic essential oils and 300mg hemp Cannabinoid extract. Great for arthritic pain or delayed onset muscle soreness after the gym.
---
Grounded in wellness, Pachamama CBD was born out of creator Brandon Stump's journey to cure his ankle after injury. Unable to use prescription pain killers after addiction troubles, and with physical therapy proving ineffective he turned to CBD. Applying a topical cream he found pain relief within 3 weeks, this lead to the creation and passion for their own CBD brand Pachamama.
E-Liquid 250-500mg
Available in 2 strengths, this CBD E-Liquid fuses rich grapes and mixed berries with added CBD benefits. Pop in your tank and vape!
Athletic Rub 500mg
The product that healed the founder of Pachamama CBD's joint pain! This balm applies to the area affected daily for pain relief.
Tincture 750mg
A goji berry and cacao blended tincture. Simply put a few drops under the tongue to feel the benefits. Full-spectrum CBD contains all the compounds from a cannabis plant, including low doses of THC.
---
CBDfx's mission is to empower both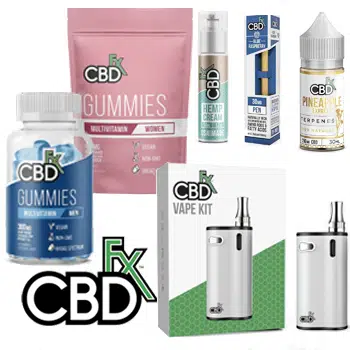 new and experienced CBD users by providing access to products that are always organic, refreshingly innovative and lovingly crafted.
Multivitamin 40-300mg
Available for both men and women, make taking your vitamins convenient + added CBD benefits!
Cream 150mg
Moisturising and non-greasy formula, this pain cream applies topically wherever you need it.
Disposable Vape 30mg
A great entry product if you want to try vape-able CBD! Simply pick your flavour, drag on the pen and go.
Terpenes 250-500mg
Another full-spectrum CBD product you can put in your vape tank! Terpenes help the body improve the ability to absorb beneficial chemicals through the blood-brain barrier and overcome bacterial defence mechanisms.
CBD Kit
Featuring a ceramic glass/steel cartridge and a temperature setting that has been perfected for CBD e-liquid, this kit guarantees a great experience.
---