Is it time for a new you in the New Year? Is it time to try vaping instead of smoking?
Are you a smoker who has made a resolution to stop using tobacco? Millions of smokers managed to quit by switching to vaping – and trying an e-cig instead of smoking a cigarette is a key part of the NHS' message. Electronic cigarettes are now the country's most popular method of quitting smoking because they mimic cigarette use and although not safe they are at least 95% safer than smoking.
Why should I quit smoking?
Cigarettes have never been more expensive and will continue to increase in price. With household bills also going up this year, maybe there are reasons other than improving your health?
Once you have purchased your e-cig starter kit from a UK vape shop, your only outgoing will be cheap coils and e-liquid. This can lead to huge savings over the year compared to smoking. The Independent British Vape Trade Association says that "switching from a 20-cigarette-per-day smoking habit to vaping could save up to £3,350."
Could my smoking influence my children?
The Department of Health and Social Care says: "Top medical experts have warned that teens whose parents or caregivers smoked are 4 times as likely to take up smoking. Analysis has also shown that early teens whose main caregiver smoked were more than twice as likely to have tried cigarettes and 4 times as likely to be a regular."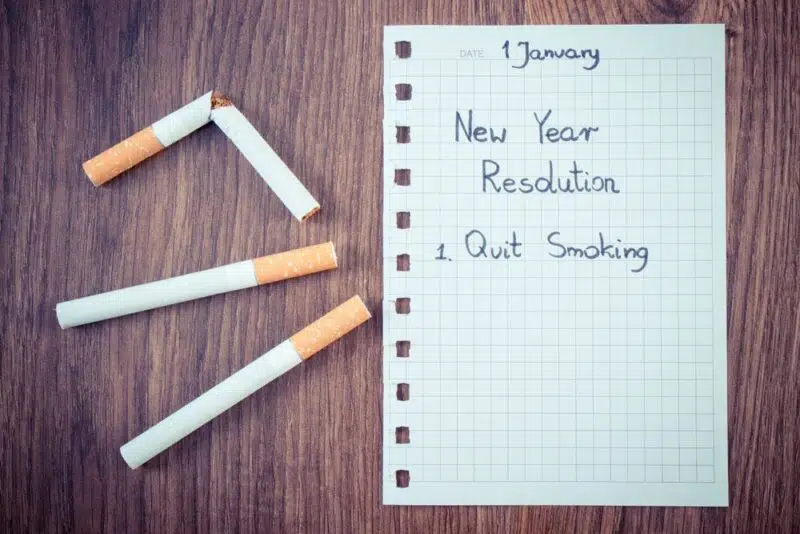 Professor Nick Hopkinson of Imperial College London said: "The most effective way to help prevent this would be for adults to quit smoking. Clearly not only does this have enormous benefits for them but it will also benefit their children both now and in later life."
What support is available through the NHS?
The NHS "Quit smoking and breathe easier this January" campaign to encourage smokers to switch to vaping budget and premium vape liquid includes the NHS Quit Smoking app, support on Facebook, daily emails and texts, and an online Personal Quit Plan.
Does vaping actually help smokers quit?
The NHS says it does.
It writes: "A major UK clinical trial published in 2019 found that, when combined with expert face-to-face support, people who used e-cigarettes to quit smoking were twice as likely to succeed as people who used other nicotine replacement products, such as patches or gum."
E-LIquids UK has seen that in the past 4 months the largest number of smokers switch to vaping thanks to the introduction of new convenient disposable e-cigs via online enquiries and in our high street shops.
But how safe is vaping?
Again, the NHS writes: "In the UK, e-cigarettes are tightly regulated for safety and quality. They're not completely risk-free, but they carry a small fraction of the risk of cigarettes. E-cigarettes do not produce tar or carbon monoxide, two of the most harmful elements in tobacco smoke. The liquid and vapour contain some potentially harmful chemicals also found in cigarette smoke but at much lower levels."
So, do you think it's time for a New Year, New You? Why not pop over to E-Liquids UK to browse our range of devices and UK vape juice. Plus, remember that all orders over £40 are shipped for free on a next day service.