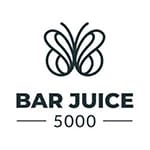 Bar Juice 5000 nic salts have been inspired by 20 flavours from the most popular disposable vape on the market, Elf Bars & ELUX Bars. These e-liquids are ideal for your customers who want to enjoy disposable flavours without buying a single-use disposable vape. We recommend partnering these elf bar salts with a simple lightweight MTL kit such as the Uwell Caliburn G.
Every bottle of Elf Bar Juice 5000 contains nicotine salt which is absorbed by our body more quickly to satisfy nicotine cravings fast. Bar Juice is available in 20mg and these 10ml bottles offer a lighter throat hit than traditional e-liquid.
---

---

Where can I find Elf Bar Flavours in E-Liquid?
Bar Juice 5000 replicates 10 of the most popular flavours from the Elf Bar Disposable vape range. Each bottle is 10ml and contains 20mg of nicotine salt offering a smooth throat hit while tasting just like an elf bar.
Bar Juice salts are far more cost-effective than elf bar disposable vapes as a single bottle contains 5 times the amount of e-liquid than a single-use disposable vape