Candy King Nic Salts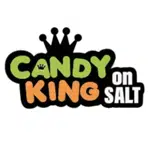 Candy King Salts bring you 9 flavours from the Drip More collection including Tobac King & Tropic King. Candy King is a true USA nic salt and comes in both 10mg and 20mg nicotine strengths which make it Ideal for all MTL vape kits. Vaping Candy King Salts means that you can enjoy amazing flavours such as Strawberry Watermelon Bubblegum and Butterscotch Tobacco.
If you are a sub-ohm vaper and want the short fill versions of Candy King then we stock all 19 flavours at the best price in the UK.
---