Bazooka Salts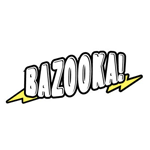 Bazooka Salts e-liquid is now available in 10mg and 20mg. Bazooka vape liquids are candy-themed alt e-liquids manufactured by KILO and have been at the heart of the vape industry since 2014. With nearly a decade of market experience, they know how to produce some of the world's best-tasting vape liquids.
Popular flavours include Strawberry Sour Belts and Blue Raspberry Sour Belts.
Bazooka is also available on our website in 100ml short fills for those of you who prefer to sub-ohm at 0% nicotine or 3mg.
---