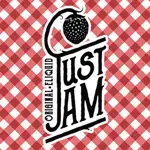 Just Jam Concentrates
Just Jam concentrates (aromas) are a home grown UK band specialising in all things jammy! With big collaborations under their belt including KSTRD and House of Pancakes they are sweeping the vape scene with their dessert inspired e-liquids.
These 30ml concentrate bottles are perfect for blending your own mix ratio, if you're a part of the DIY vape community. Vape the delicious taste of fruity jam all day long with these aromas!
Just Jam Nicotine salts and Just Jam 100ml Short Fills are also available.
---