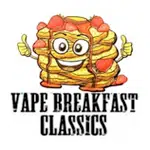 Vape Breakfast Classics
Vape Breakfast Classics is the brand behind the popular Pancake Man and French Dude eliquids. Having now developed into a world recognised vape brand. Not only that, but they have expanded their range of dessert style liquids, offering deluxe and variations of their flagship flavours.
Each flavour in this range comes in 100ml shortfill bottles, feature a VG ratio of at least 70%, making them perfect for sub ohm use and contain 0mg nicotine, meaning you must add nicotine shots in order to reach your desired nicotine strength.
---
Pancake Cookie Butter eliquid by Pancake Man Reloaded features a combination of classical pancakes drenched in butter and topped with strawberries, now with the scrumptious addition of melted cookie butter providing a sweet and moreish taste. Available in a 100ml 0mg short fill with room for 2 nicotine shots.