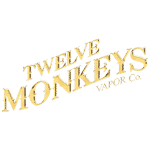 Twelve Monkeys (12 Monkeys) is a premium e-liquid brand all the way from Canada. Founded in 2015 and winning best e-liquid in 2017. Their crazy tropical flavours have touched the hearts and tongues of vapers worldwide. 12 Monkeys original line consists of 9 flavours which include fan favourites such as Kanzi, Tropika & Mangabeys.
The summer of 2018 brought us the Twelve Monkeys Ice Age Collection where popular flavours from their original line were recreated with cooling menthol effect and new flavours such as Nikko and Sabae were introduced.
Twelve Moneys Origins is their latest line focusing on sweet simple flavours that are smooth and accurate to their profiles. Each bottle is blended to a 70% VG mix while keeping coil longevity in mind.
The tribe are truly passionate about creating high-quality e-liquids and all of their flavours have to lab reports to confirm this which can be found here.
---