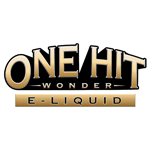 One Hit Wonder E-Liquid
One Hit Wonder is made in Los Angeles, California and contains only the finest ingredients from their VG to their PG and premium concentrates. This is one of the oldest liquids stocked by us, this brand really has stood the test of time. Popular flavours include The Man (formally known as the Milkman), Muffin Man & My Man.
Newer flavours have recently been introduced such as Army Man & Fire Man. Available in 100ml 0mg short fills which have room for 2 nicotine shots.
---