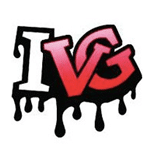 IVG E-Liquids
IVG (I Vape Great) was established in 2016 in the UK, it has risen to dominance in the global vape market, winning countless awards at various different events, as a result, millions of people around the world, in over 100 countries and across 6 continents, are vaping great because of IVG.
With their huge range of short fills ranges blended to the perfect sub-ohm 70% VG / 30% PG you will be blowing clouds packed full of delicious flavour!
IVG Salts are also available in 20mg Nic salt and the IVG 50/50 range goes from 3mf to 18mg, these two variations are perfect for MTL vaping using starter kits or pod systems.
---