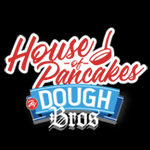 House of Pancakes E-Liquid
House of Pancakes by Dough Bro's is a fun novelty liquid allowing you to build your own stack of Pancakes.
Each box comes with a 120ml bottle short filled with pancake base to 80ml. You're then given the choice of 4 10ml flavours concentrates to add to bring the bottle up to 100ml. After adding 2 flavours you still have room for 2 nicotine shots.
---
This 80ml base flavour from the House of Pancake range, perfect for your leftover flavour boosters. Remember there is space for 20ml in this bottle. 80ml Bottle Nicotine Strength of 0mg 80% VG / 20% PG Intended For Sub-Ohm Devices and RDA/RTA's Made In Malaysia Childproof Cap Tamper Evident Seal Dough Bros House of Pancakes [...]