Elux Bar 600 Disposable Vape Kit is available in 20mg of nicotine salts in an inhale-activated, compact, and beginner-friendly disposable device. The Elux Disposable vape provides up to 600 puffs per kit and requires no maintenance at all. Each Elux Puff bar is pre-filled with 2ml of 20mg premium nic salt vape juice to keep you going all day.
When the disposable vape is finished, simply dispose of the whole kit and start on a new one. No filling with e-liquid, no messy coils to change and no need to charge the device.
Elux Bar 600 vapes are a brand of disposable vapes aimed at new vapers, each kit will provide the equivalent of 20 cigarettes at a fraction of the price.
Please dispose of the kit responsibly.
 Features:
Beginner-Friendly Disposable Vape
Up to 600 Puffs
550mAh Battery
Inhale Activated
Range Of Flavours
20mg Nic Salt
2ml E-Liquid
Elux 600 Disposable Vape Flavours Available:
Gummy Bear – Gummy, Candy
Berry Lemonade – Mixed Berries, Lemonade, Fizzy/ Soda
Sweet Red Apple Ice – Apple, Ice/ Slush
Pink Lemonade – Raspberry, Lemonade, Fizzy/ Soda
Unicorn Shake – Mixed Berries, Banana, Milkshake
Blueberry Pomegranate – Blueberry, Pomegranate
Strawberry Bubblegum Watermelon – Strawberry, Bubblegum, Candy, Watermelon
Blueberry Bubblegum – Blueberry, Bubblegum, Candy
Apple Peach – Apple, Peach
Strawberry Energy – Strawberry, Energy Drink
Tiger Blood – Mixed Berries, Energy Drink, Ice
Mr Blue – Blackberry, Blueberry, Raspberry, Ice/ Slush
Blueberry Raspberry – Blueberry, Raspberry
Kiwi Passion Fruit Guava – Kiwi, Passionfruit, Guava
Apple – Apple
Vanilla Ice Cream – Vanilla, Ice Cream
Mango – Mango
Espresso – Coffee
Strawberry Banana – Strawberry, Banana
Blue Razz Lemonade – Blueberry, Raspberry, Lemonade, Fizzy/ Soda
Watermelon Ice – Watermelon, Ice/ Slush
Strawberry Ice – Strawberry Ice/ Slush
Peach Ice – Peach Ice/ Slush
Grape Ice – Grape Ice/ Slush
Cotton Candy – Sweet, Candy, Cotton Candy
Cola Ice – Cola, Fizzy/ Soda, Ice/ Slush
Blueberry Ice – Blueberry, Ice/ Slush
Banana Ice – Banana, Ice/ Slush
Berry Pop Berry – Mixed Berries, Ice/ Slush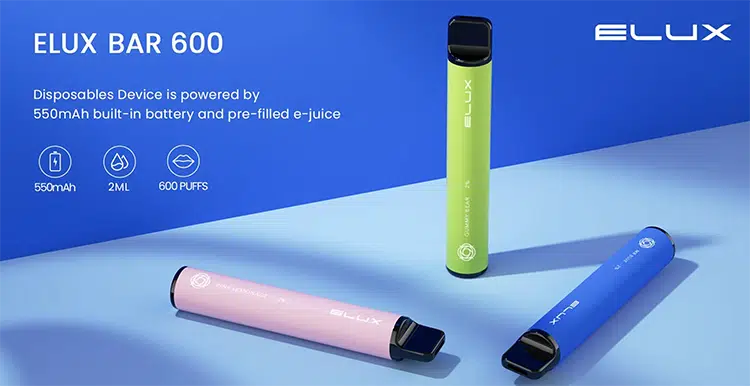 How Many Puffs are in an Elux Bar 600?
The Elux Bar 600 contains up to 600 puffs, with 20mg (2%) of nicotine Salts.