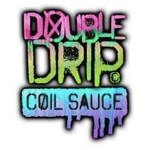 Double Drip coil sauce is a distinguished e-liquid brand made by Vapouriz Labs in Guildford, Surrey. The brand is honoured amongst vapers as being a perfect sub-ohm liquid for starters and veterans. Carefully blended at 70% VG they offer great tasting flavours with big cloud production.
Available in 50ml 0mg short fills for just £13.99 they leave enough room for a nicotine shot to make 60ml 3mg.
If you're looking for higher nicotine strengths then why not pick up a 10ml TPD bottle or even Double Drip Salts? If 50/50 is more your thing they have a new range of Double Drip on the way but until then, why not check out Vapouriz 50/50 where they have over 50 flavours to choose from.
---