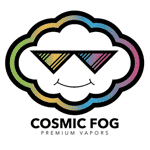 Cosmic Fog was founded in sunny Orange County California, Cosmic Fog Vapors was created with a single mission, to craft only the most unique, thoroughly tested, highest quality e-liquids the vaping industry has ever seen.
Each flavour is unique and should be a new, exciting experience for every vaper. Their flavours are available in 10ml TPD compliant bottles and also 50ml 0mg short fills.
If you've enjoyed the Cosmic Fog flavours then you must try their new XCEL Sixty line recently launched at Vape Jam 4.