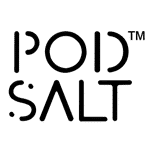 Pod Salt are nic salts manufactured by My Vapory in the UK. Pod Salt is made up of 3 ranges which include Pod Salt Nexus & Pod Salt Fusions. A mixture of different flavours is available with everything from Fruits, Mints to Tobacco flavours, Pod Salt is created using only premium Nicotine Salt which is found naturally in tobacco plants leaves, this allows them to produce a perfectly smooth vaping experience with minimal throat irritation.
There are so many great flavours in the Pod Salt family including especially in their fusions range which collaborates with big brands such as Doozy's Pink Haze, Marina Vape's Marshmallow Man 3 & Strawberry Kiwi Ice from Pacha Mama.
---

---
Why Should I Vape Pod Salt?
Pod Salt has developed an advanced Nicotine Salt formula is designed to provide an exceptionally smooth vaping experience at high nicotine strengths. Naturally found in tobacco leaves, salicylate lowers the pH of nicotine, reducing irritation on the throat and providing enhanced nicotine delivery. Their salt e-liquid formula is engineered for low vapour production, bringing an element of stealth and discretion to your vaping.