'Talk To Frank' is a service run by the UK government that offers advice on drug use. It has been updated to include factual information about vaping and electronic cigarettes. It proves yet again that not only is vaping an excellent alternative to smoking but the United Kingdom continues to lead the world with its support for tobacco harm reduction.
'Talk To Frank' goes by the claim that it delivers "honest information about drugs". This might appear to be an odd place to find information about vaping, lodged alongside advice regarding ketamine, LSD, and cannabis but the reason is that the site covers the use of both legal and illegal drugs.
It was established by the UK Department of Health and the UK Home Office in 2003. It has attracted criticism from some quarters, saying it hasn't prevented drug use – but then its remit is to give honest information to people about the use and offer counselling services for those who wish to change their habits.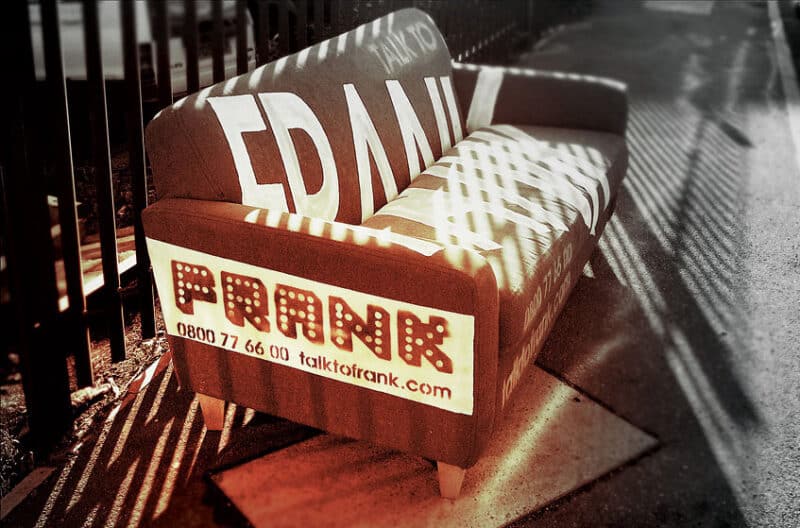 Consequently, from a tobacco harm perspective, not only does it facilitate people to make decisions about possible tobacco use or the alternative, but it also offers up further support with a 24hr telephone centre, email, a live chat service, and links to local counselling.
'Talk To Frank' informs possible or current vapers about what vaping is and the basic ingredients of approved UK e-liquids.
The service describes the brief difference between cigalikes (e-cigs that look like cigarettes), disposable and refillable pod systems, vape pens (commonly found as starter kits), and the more "sophisticated customisable devices" that we refer to as mods and atomisers/tanks.
Importantly, it reminds users that legal UK e-liquid comes "in different flavours and nicotine strengths ranging from 0 mg/ml to 20 mg/ml."
What does Frank say are the negative aspects of vaping?
Coughing
Dry mouth and throat
Shortness of breath
Mouth and throat irritation
Headaches
Don't forget to read our Beginners Guide to Vaping & 7 Myths About Vaping.
What does Frank say are the physical health risks?
"Nicotine vaping is recommended by the NHS as a way for adults to stop smoking. But it isn't recommended for non-smokers, especially children and young people under 18," says Frank. "Vaping is significantly less harmful than smoking but that doesn't mean it's harmless."
The advice states that genuine risk comes from the tar and carbon monoxide produced when tobacco combusts and that electronic cigarettes do not produce any tar and carbon monoxide: "smokers who switch to vaping reduce their exposure to a wide range of toxic substances."
What does Frank say about UK e-liquids and other vape products?
"Nicotine vaping products are covered by regulations to protect users, including maximum nicotine strength and bans on certain ingredients."
But Frank warns that some disposable vapes are not legal "and don't meet UK quality and safety regulations. They might look like the real thing, but they aren't so it isn't possible to know what's in them."
There is more that could have been covered by 'Talk To Frank' but this is a promising and welcome addition to the list of bodies in the UK who are telling the truth about vaping and e-cigs.