Local authority Trading Standards departments have conducted a succession of raids across the United Kingdom to identify and seize illegal vapes. Councils are setting up sting squads to catch out shops that are not conforming with UK regulations. It will come as a relief that these counterfeit products are being removed from shelves – but how can you identify and avoid illegal vapes?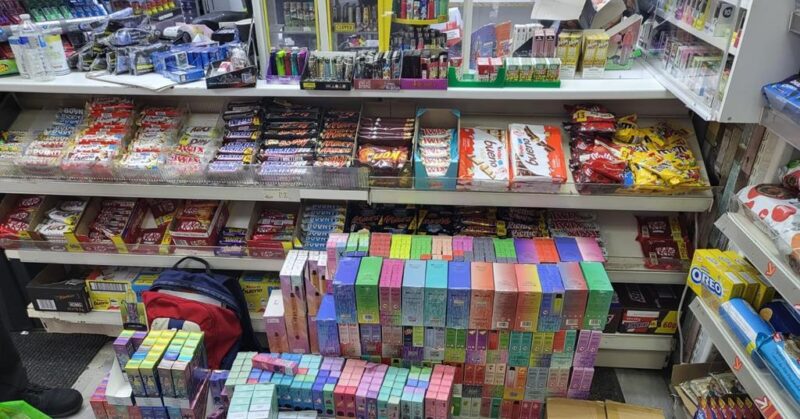 In Scotland
A shop worker was sacked in Glasgow after a mother took her child back to the store which previously sold her a disposable vape. The mother sent the 15yr old to see if they sold to her again.
"I'm sickened that a child can buy something like this so easily. I watched her go inside and be served. As soon as she came outside with them, I went straight inside and said to the shopkeeper that he had just sold these to a minor. She's a kid wearing a school uniform and they thought it was appropriate to do this," she exclaimed.
Scottish Trading Standards officers have been busy handing out £200 fixed penalty notices to all the stores stocking non-compliant vapes which don't meet British standards and are not registered with the MHRA (Medicines and Healthcare products Regulatory Agency).
Highland Council alone has confiscated more than 3,000 devices recently.
In Bolton
Over 50 complaint reports have been logged by Bolton's Trading Standards department. It blames the rise in problems as being due to "pocket money prices" and "because dealers simply don't care that they're selling to children".
Kate Pike, Trading Standards North West Lead on Tobacco, said: "The lengths that people go to, to sell to children, even in school uniform, are quite astonishing."
In Barking and Dagenham
Trading Standards officers confiscated over 500 devices from just two shops recently.
"These two shops did not follow the UK regulations and are potentially putting people at risk," Councillor Syed Ghani said.
In Tower Hamlets
Officers were accompanied by the Met police when they raided a local store and seized 320 illegal e-cig devices worth over £5,000.
Councillor Kabir Hussain pointed out why this action is necessary: "There are real dangers associated with shops selling counterfeit vape products, as they can contain harmful substances mixed with nicotine. Some of the vapes being sold also had higher levels of nicotine than is allowed in the UK which is dangerous to those who use them."
In Wakefield
Trading Standards targeted establishments linked with the provision of cut-price products and removed over 200 vape items from one store.
Councillor Maureen Cummings said: "The sale of illegal vapes will not be tolerated. I'd like to thank the public for reporting premises that they suspected of selling illegal or counterfeit products."
In Liverpool
The council has given the go-ahead for an ongoing crackdown on illegal sales to under-18s. Trading Standards will be conducting an underage sales test purchasing operation, focusing mainly on the more deprived areas of Liverpool.
How can I identify illegal vapes?
A high number of claimed puffs (over 600) used to be an indicator, but now there are legal MHRA-registered devices so this doesn't work now.
All legal vape products are required to have warnings covering 30% of the front and back of the pack. If it doesn't have this, then it is an illegal product.
The warning must state: "This product contains nicotine which is a highly addictive substance". If the wording says anything else, then it is an illegal product.
How can I guarantee I am not buying an illegal product?
All of the products sold on the E-Liquids UK website are legal and registered with the MHRA, conforming to all of the UK standards guaranteeing quality and safety. You can find them here: https://www.e-liquids.uk/