The Communication Workers Union (CWU) has called on its members at Royal Mail to take strike action over the next 2 months; August and September. Royal Mail workers will strike. Disruption and service delays may be experienced during and immediately following these strike action dates;
Friday 26th August

Wednesday 31st August

Thursday 8th September

Friday 9th September
UPDATE: 

Friday 30th September
Saturday 1st October
"We will prioritise all shipments and upgrade shipments to Tracked 24 services as these will be handled first by Royal Mail".
At this stage, we expect all shipments processed with Royal Mail on or around the strike dates to incur delays of at least 72 hours, as there will be a significant impact on the network over the strike period.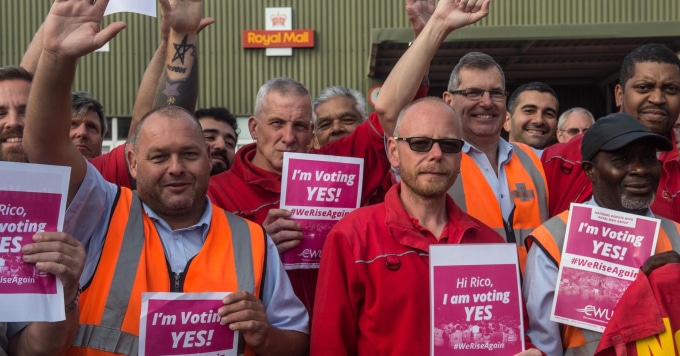 In response to the CWU strike action announcement, Royal Mail released a Service During Industrial Action Update commenting that:
'We're really sorry for the disruption that this strike action is likely to cause to you. We want to reassure you will do everything we can to minimise disruption and get our services back to normal as quickly as possible.

Royal Mail has well-developed contingency plans, but they cannot fully replace the daily efforts of its frontline workforce. We will be doing what we can to keep services running, but customers should expect significant disruption.'
Around 115,000 UK Royal Mail postal workers will be staging a series of strikes over unfair pay in the coming weeks. These strikes are set to take place on Friday the 26th of August, Wednesday the 31st of August, Thursday the 8th of September, and Friday the 9th of September. Consequently, delivery times will vary significantly and we are expecting large delays outside of the normal delivery window for a solid two weeks around this time.
All orders received after 5 pm on Thursday the 25th of August will not be shipped until Tuesday the 30th (due in part to the bank holiday on Monday the 29th) As the following day (Wednesday the 31st) is a strike day, even if your order has been shipped and collected by Royal Mail on the 30th, movement of your order through their system will be incredibly slow.
The same is said for any orders placed after 5 pm on Wednesday the 7th of September. These orders will not be shipped until Monday the 12th, but delivery times will exceed the norm due to the backlog of letters and parcels that Royal Mail will be experiencing.
E-Liquids UK highly recommends that all of our customers, UK and international, take this into consideration when ordering from us. Although we normally ship all orders placed before 5 pm that same day, we will be unable to ship via Royal Mail on the strike days and delivery times will be extremely spotty over the weeks that the strikes are in place.
We ask for your patience and consideration over these two weeks, as unfortunately, we can do nothing to control the situation.