It's time for two huge names in the industry to come to the table with their own e-liquid. Grimm Green is a name familiar to anyone that is anyone in the vape industry and Ohmboy OC is another that will be familiar to many. This is not Grimm Greens first juice to be released but I believe it to be the first collaborative juice and what an amazing pair of minds have come together to produce this.
Aside from Green's name being associated with this, the name itself Rocket Blast stood out for me. I am expecting something along the lines of a rocket lollypop. But the product shots suggest more of a drink, either way, the flavour profile sounds top-notch. Strawberry, Lemonade and Blue Raspberry! Three of my favourites if I was going for a fruity vape.
Rocket Blast is available as a 100ml short fill with adequate space to add one or two nicotine shots. The price is £19.99 excluding nic shots.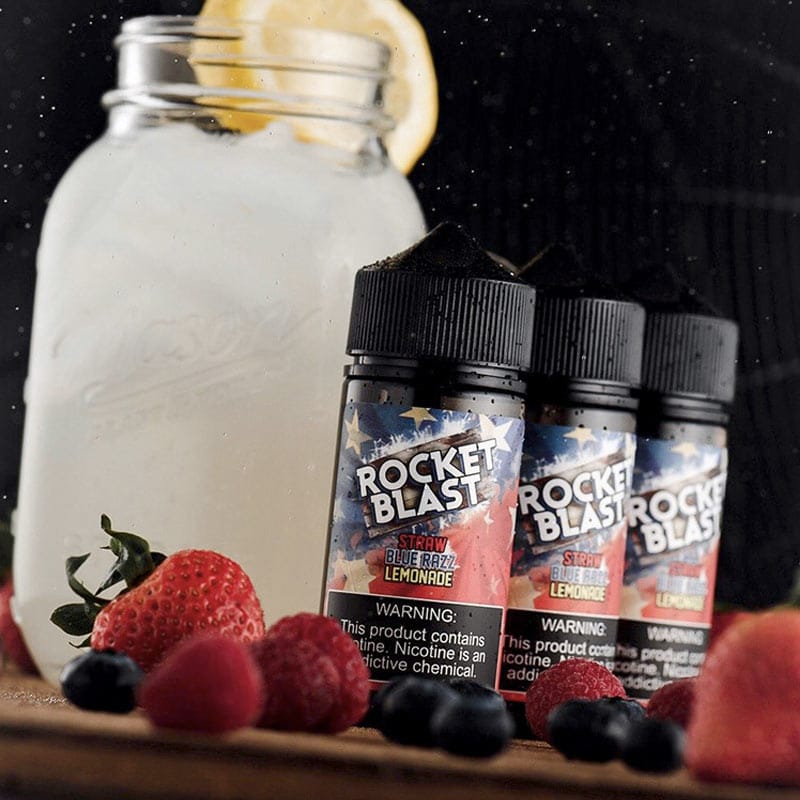 Popping that cap to add nicotine shots I am met with a luscious blast of lemonade, like an old school classic or traditional lemonade. My mouth is already watering. I am vaping this in the Steamcrave Glas RTA just to give the liquid the best I have for flavour.
The inhale is a stunning blue raspberry flavour, very fruity and nice and sweet. There is a small kick of citrus hiding there too. The exhale flips everything around. Blue raspberry becomes an undertone and is dominated entirely by a crisp citrus lemonade. Like the smell of traditional lemonade, this tastes exactly as you would expect. As the exhale draws to a close the blue raspberry comes to life again mixed with sweet notes of strawberry. One thing I found is the more I vaped this, the more I could taste the strawberry under the lemonade. This is a great liquid and for a fruit vape, this is one I would go back to time and time again. A perfect summertime liquid, it's a shame summer is now over though!
A side thought to this, I imagined it to be like a Rocket Lolly and it really was more of a drink type of liquid. I am thinking of getting more and adding in kool ade nicotine shots to see how turning it cold would work. I think it could produce something really refreshing.
Big shout out to E Liquids UK for letting me review this amazing liquid.