Thanks for checking out my review and thoughts on Bedrock from Ice Cream Donuts. Ice cream donuts were manufactured by the ever-popular US company Ruthless. Bedrock has been around since before the TPD kicked in here in the UK and was a juice I always enjoyed. Since the start of the TPD, it has been hard to get hold of this liquid much to my disappointment. But here it is again this time in a 50ml Short fill.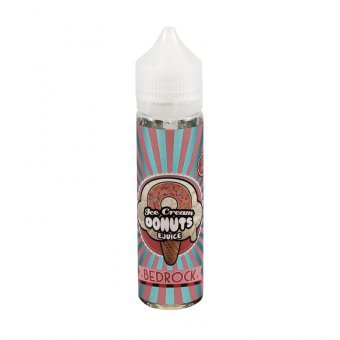 Short fills in case you have been asleep since the start of the TPD or this is your first time looking into larger bottles are basically a larger bottle of juice that contains no nicotine (0mg) and also have enough space to add 1 or 2 nicotine shots into the bottle to give you a larger 3mg liquid. With this benefit, there comes a pretty good saving in terms of cost per ml of juice. In the case of Bedrock, this comes as a 50ml 0mg liquid in a 60ml bottle. This allowed me 10ml of space for 1 shot to give a 3mg 60ml liquid. Bedrock is a 70vg / 30pg liquid.
Bedrock is a combination of the following; ice cream, donuts and fruity pebble cereal. If you are anything like me when I first started vaping the thought of a cereal liquid was rather off-putting but seriously you have to try some! I never looked back. The problem I find with some of the fruit pebble variants out there is that some are just too overpowering. The closest liquid I have tried to this would be raging donut but by far this is the better juice of the two. Where Bedrock comes into its own is the prominence of the donut flavour and the creaminess of the ice cream. On top of this, the fruit pebbles are really well balanced into the mix so as not to be so in your face and let the rest of the flavours come through too. The inhale is mostly fruit pebbles with undertones of donut. The exhale that follows is more about the donut and creaminess. The fruit pebbles come back in and linger after the exhale leaving a pleasant aftertaste. Unlike some of the USA premium liquids, this is not an over the top sweet liquid. Sweet yes but I have always found this to be friendlier on the coil after vaping for long periods.
Want to buy some?
For those that know me from social media, you will know I have a massive thing for donut juices. There are some fantastic juices out there and this ranked very high among the best for me. Priced at £16.90 this is a good price for a 60ml short fill when you consider 30ml multi-packs can come in around £15. Please bear in mind if purchasing and require nicotine you should add shots to your basket individually.