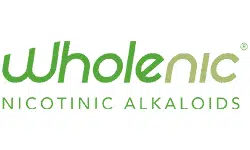 WholeNic Nicotinic Alkaloids
WholeNic Nicotinic Alkaloids deliver the most satisfying vape experience ever, thanks to cutting edge technology which delivers all the things your brain craves and removes everything that causes the body harm. WholeNic contains all of the feel-good chemicals found in cigarettes as well as nicotine.
WholeNic's Nicotinic Alkaloids work in harmony with nicotine to change the way it feels, the length of time you feel satisfied, the depth of satisfaction, the relaxation which accompanies the stimulation nicotine provides. WholeNic delivers all the 'missing bits' that normal nicotine products can't provide.
---

---
How Should I Consume WholeNic?
Initially, WholeNic® is offered for vaping, in premixed flavours and at various nicotine strengths. Unflavoured WholeNic® e-liquid is also available for those who prefer to vape without any added flavours, or for use in short fill bottles. WholeNic®'s initial focus on vaping is because vaping is the most successful method for stopping smoking, findings backed up by the UK Government, Cancer Research UK and the Royal College of General Practitioners. Nonetheless, many vapers continue to smoke, and according to Action on Smoking and Health (ASH) for most smokers vaping is not as satisfying as cigarettes. That's until they tried and started using WholeNic.
What are WholeNic Nicotinic Alkaloids?
Nicotinic alkaloids, sometimes referred to as "Whole Tobacco Alkaloids" (WTA's), are the naturally occurring chemicals in tobacco that have an effect on your brain. Some of these feel-good chemicals prolong the effects of nicotine. Others have calming properties, offsetting the stimulant effects of nicotine alone. In short, they work with nicotine to provide the stimulation, relaxation and satisfaction smokers enjoy. Nicotine itself is a stimulant. People using standard e-liquid often report that it can cause issues sleeping, similar to drinking coffee late at night. Instead of a pure stimulant effect, we set out to recreate the same satisfaction, de-stressing and relaxing sensations only gained, until now, from smoking. WholeNic is the only e-liquid product in the world to contain all the feel-good chemicals found in cigarettes while extracting and eliminating all the chemicals which cause harm.
Are WholeNic TPD Compliant & Tested?
All WholeNic® products undergo rigorous testing in certified labs and are manufactured in specially designed cleanrooms in ISO certified, EU registered and GMP facilities. All of WholeNics products are MHRA registered and tested for harmful compounds (such as TSNAs) at PPB (parts per billion) levels. Our products are completely free from these carcinogens, and also free from residual solvents. So yes, WholeNic couldn't be safer and has gone through further testing than most TPD registered products.
What are TSNA's and Does WholeNic Contain Them?
Tobacco-specific nitrosamines (TSNAs) are one of the most important groups of carcinogens in tobacco products, particularly in cigarettes. WholeNic® is tested by accredited labs and is free from TSNA's.